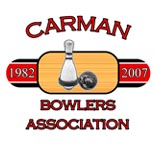 2013 CBA 10 Game Marathon

The 30th Annual 10 Game Marathon is set for Sunday, April 14th at 12:30 p.m.



Welcome to the newly updated Carman Bowlers' Assocation website.  The Carman Bowlers' has represented bowlers at the Carman 5 Pin Bowl for over 25 years, and we've had our online presence for over 10 of them.  Check back for updates on our Hall of Fame, Kids Help Phone Line fundraisers, and our ever popular 10 Game Marathon.

Welcome to the Online Home of the Carman Bowlers' Association

2012 CBA 10 Game Marathon

Ian Sylvester of Morden, Manitoba captured the 2012 Carman Bowlers' Association 10 Game Marathon title.